For details, please visit my store home page http://xrd0196.pack.cn

Soft starter model 3RW30 1. 3RW30 2. 3RW30 3. 3RW30 4.
Conductor cross-sectional area Screw-type terminal Main conductor with front clamping point Rear clamping point with front and rear clamping points • Single stranded • Fine stranded wire with end sleeve • Stranded strand • AWG cable
- Single
- Single or multiple strands
- Stranded Strands • Single Stranded • Stranded Stranded Stranded Stranded Stranded Strands • AWG Cable
- Single stranded or stranded strands • Single stranded • Stranded strands • Fine stranded strands with end sleeves • AWG cable
- Single or multiple strands • Tightening torque tool protection class
Mm2
Mm2
Mm2
AWG
AWG
AWG
Mm2
Mm2
Mm2
AWG
Mm2
Mm2
Mm2
AWG
NM
Lb.in
2 x (1 ~ 2.5);
2 x (2.5 to 6) in compliance with IEC 60947
2 x (1.5 ~ 2.5);
2 x (2.5 ~ 6)
-
2 x (16 ~ 12)
2 x (14 ~ 10)
1 x 8
-
-
-
-
-
-
-
-
2 ~ 2.5
18 ~ 22
PZ 2
IP20
2 x (1 ~ 2.5);
2 x (2.5 ~ 6), in line with IEC 60947 standards;
Up to 1 x 10
2 x (1 ~ 2.5);
2 x (2.5 ~ 6)
-
2 x (16 ~ 12)
2 x (14 ~ 10)
1 x 8
-
-
-
-
-
-
-
-
2 ~ 2.5
18 ~ 22
PZ 2
IP20
2 x (1.5 ~ 16)
1 x (0.75 to 25)
1 x (0.75 to 35)
1 x (18 ~ 2)
-
2 x (1.5 ~ 16)
1 x (1.5 ~ 25)
1 x (1.5 ~ 35)
1 x (16 to 2)
2 x (1.5 ~ 16)
2 x (1.5 ~ 25)
2 x (1.5 ~ 16)
2 x (16 ~ 2)
4.5
40
PZ 2
IP20
(IP00 terminal room)
2 x (2.5 ~ 16)
1 x (2.5 ~ 35)
1 x (4 ~ 70)
1 x (10 ~ 2/0)
-
2 x (2.5 ~ 16)
1 x (2.5 ~ 50)
1 x (10 ~ 70)
1 x (10 ~ 2/0)
2 x (2.5 ~ 16)
2 x (10 ~ 50)
2 x (2.5 ~ 35)
2 x (10 ~ 1/0)
6.5
58
4 mm Hexagon Socket Screws
IP20
(IP00 terminal room)
Spring-type terminal main conductor • Single stranded • Fine stranded wire with end sleeve • AWG cable
- Single or multiple strands (fine strands)
- Multi-strand tools
1A0;5 x 3
Protection level
Mm2
Mm2
AWG
AWG
1 ~ 4
1 ~ 2.5
16 ~ 14
16 ~ 12
DIN ISO 2380-1A0;
5 x 3
IP20
1 ~ 10
1 ~ 6, end sleeve, without plastic sleeve
16 ~ 10
1 x 8
DIN ISO 2380-1A0;
5 x 3
IP20
-
-
-
-
-
-
-
-
-
-
-
-
Busbars connecting mains • With DIN 46234 or maximum width
20 mm lugs
- Stranded wire
- Fine stranded wire • AWG cable, single or multiple stranded
Mm2
Mm2
AWG
-
-
-
-
-
-
-
-
-
2 x (10 ~ 70)
2 x (10 ~ 50)
2 x (7 ~ 1/0)
Soft starter model 3RW30 1. ~ 3RW30 4.
Conductor cross-sectional area auxiliary conductor (connectable 1
Or 2 wires):
Screw Terminal Blocks • Single Stranded • Stranded Stranded, with End Cap • AWG Cable
- Single or multiple strands
- Fine stranded wire with end sleeves • Terminal screws
- Tightening torque
Mm2
Mm2
AWG
AWG
NM
Lb.in
2 x (0.5 ~ 2.5)
2 x (0.5 ~ 1.5)
2 x (20 ~ 14)
2 x (20 ~ 16)
0.8 ~ 1.2
7 ~ 10.3
Spring-type terminal block single strand fine stranded cable with end sleeve
Stainless Steel House Numbers
3D effect hardware house numbers is constructed from solid metal body and is made of stainless steel 304,black or satin brushed finish,will be rustproof and waterproof, brushed treatment looks textured, could be used indoor or outdoor, the normal thickness is 2mm, will not be twisted easily.
Features and advantages
1.EASY INSTALLATION - Requires no special tools outside of a hammer and It comes with a high quality mounting kit.
2.FLOATING EFFECT-each door number is silver or black, and has a hidden back legs of 6mm in length. It provide a modern floating effect for our numbers and letters, and they seem to magically float when viewed from the front.
3.SOLID STAINLESS STEEL - One of our biggest advantage over our competitors is that our products are made from the finest 304 Stainless Steel. Our Stainless steel house numbers and letters are extremely durable and made to withstand the harshest conditions.
Description
| | |
| --- | --- |
| Material | Stainless Steel 304 |
| Size | 3inches-12inches |
| Surface treatment | Satin or Black |
| Thinkness | 2mm with 6mm back legs |
| Using | Home,office,hotel,factory,etc |
Product details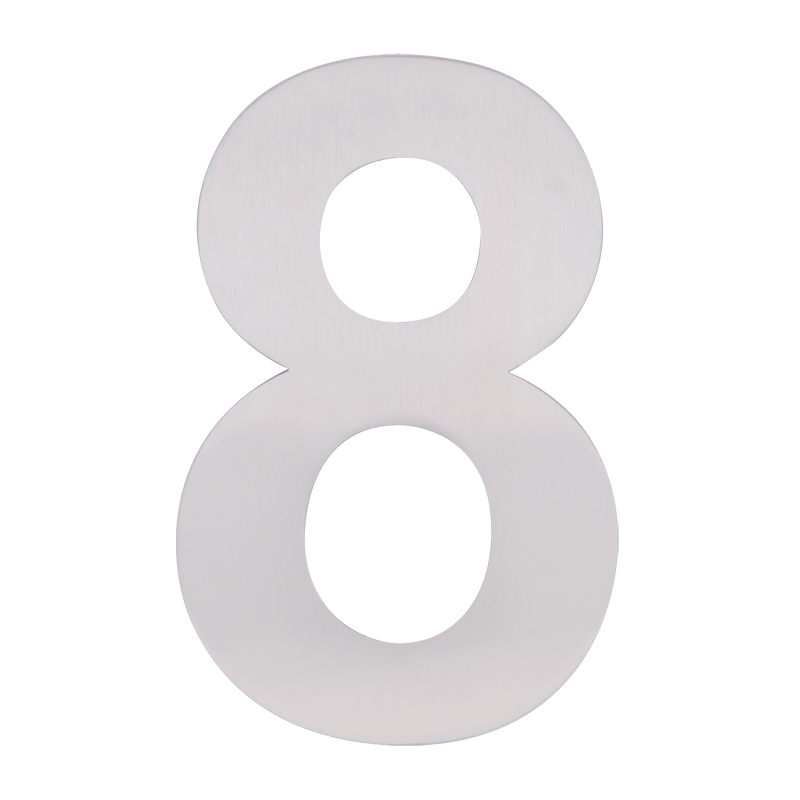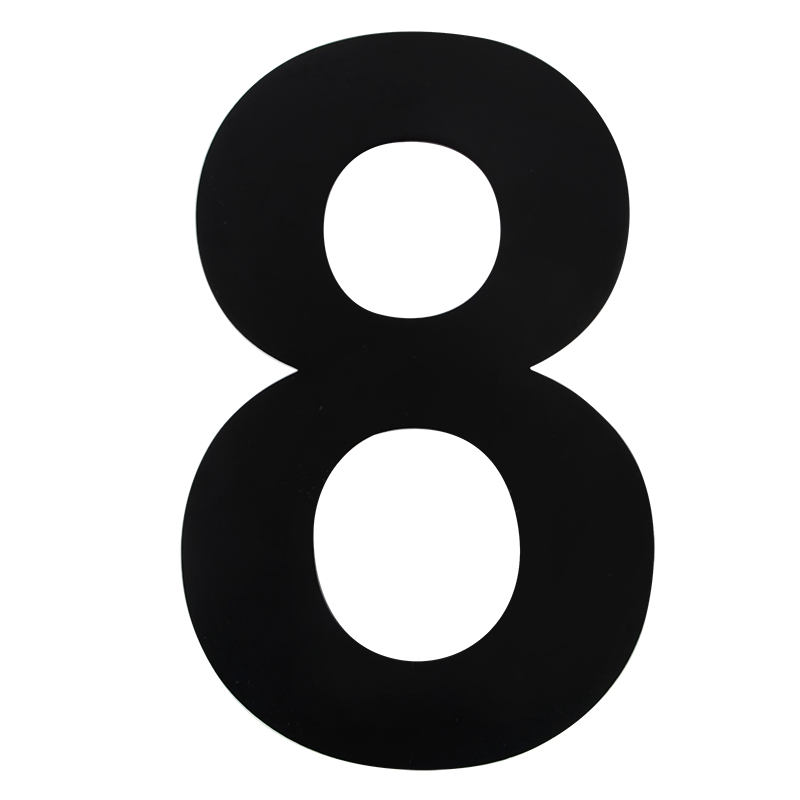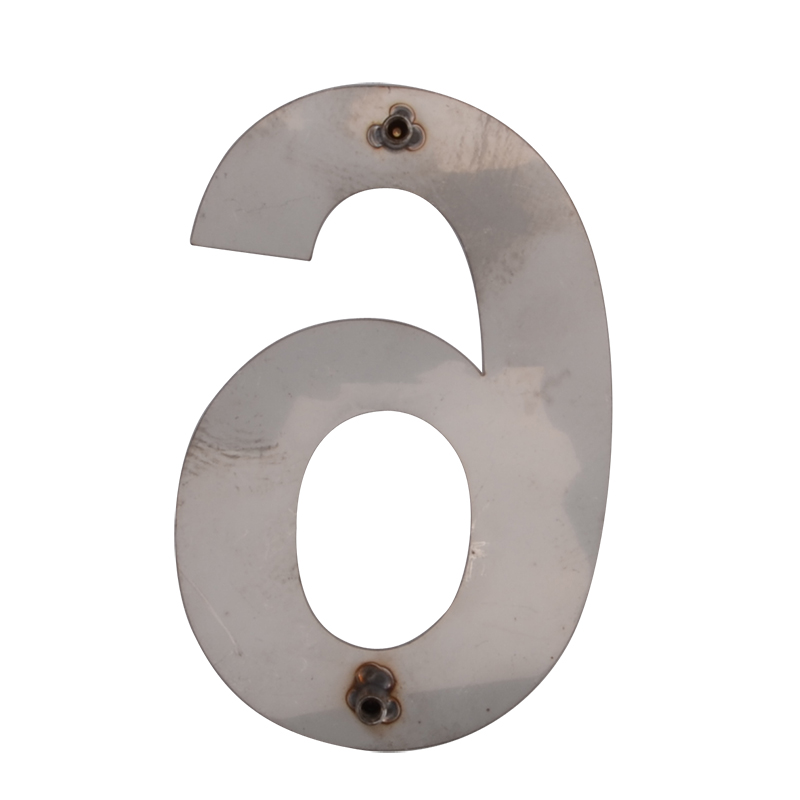 FAQ
1.Q:Do you accept customize?
A:Yes,we have our own factory, can customize according to your requirements.
2.Q:Can print our logo or company name on the product?
A:Yes, if the guest requirement, we can print your logo and company name such as the information on products or packaging.
3.Q:Is it possible to get a free sample?
A:Yes,Stock samples are free, but shipping cost you collect. We could also customize sample for you, the specific price will be confirmed according to the sample`s workmanship. If we have a further cooperation in the future, the sample fee will be returned.
4.Q: How does your factory do regarding quality control?
A:Our quality inspections will take quality control of each production process, also you can come to our factory to make the inspection the goods before shipment, till the guests are satisfied of them and make the payment, then we will make the shipment.
5.Q:What is your delivery time?
A:Usually 25-30 days. According to the product and quantity, delivery time will have different.
Home Hardware House Numbers,Laser Cut Stainless Steel House Numbers,3D Effect Number Plate,Metal Invisible Screw House Number
Fungho Industries (Group) Co., Limited , https://www.funghogroup.com